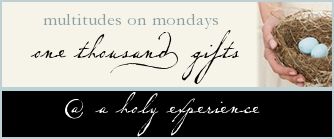 This list, a continuing joy to uncover the Lord's gifts, large and small, each day.
Scroll down for the continuing list.
3312 a gift, this new journal, beginning again to COUNT
3313 One Word for 2014, WELCOME, with all its meanings
3314 open the door, pay attention, listen, accept - with a heart of gratefulness
3315 new office arrangement, furniture rearranged, open to new possibilities
3316 the lamp on my desk, lighting the page in the early morning
3317 progress, steps forward
3318 pictures from our Christmas house rotating through my screensaver, rich memories, smiles
3319 Little R, growing so fast
3320 a dresser project in process - cut off drawers from an old desk, ready to paint and sand - fun! grateful for the ability to do this
3321 full moon, rising quietly in the sky
3322 The Friendly Year by Henry Van Dyke, a gift from my brother, enjoying the daily readings
3323 small projects completed
3324 early mornings with coffee
3325 pinecones - memories collected from different places
3326 healing from an injury - grateful for the process, the source of healing
3327 changed plans - works out surprisingly well
3328 chatty emails with a friend
3329 ice packs
3330 a quiet weekend
3331
"There are a hundred touches of kindness that come to us every day to tell us that we are not orphans or outcasts upon the earth. Every trace of order, every gleam of beauty, every provision of bounty in the natural world is an evidence that it is God's house."
The Friendly Year, Henry Van Dyke
3332 pink and gold sunrises
3333 time to journal
3334 music, played on the computers
3335 a special meal, shared
3336 safe drives
3337 safe flights
3338 visit with my parents, my brothers
3339 people watching in the airports
3340 lunch outing with my parents
3341 visit to walk through a favorite place, Descanso Gardens
3342 visit to an old place filled with memories, where our wedding rehearsal dinner was held. Not a restaurant now, but the building, gardens, fountains are still there
3343 long walks with family and the dog around the neighborhood where I grew up
3344 visit with son, his wife, grandbaby on the way!
3345 a horse show - their beauty and grace and power
3346 listening to old, varied styles of music, songs from years ago
3347 ocean waves - a walk near the beach, looking at houses and plants thriving in the beach air
3348 grateful to RA for watching N and dogs while I was gone
3349 my family - familiar faces picking me up at the airport
3350 home again!
3351 unpacking, catching up, but a restful day, quiet
3352 three inches of snow last night, brighter than a full moon
3353 even the tumbleweeds are pretty this morning with the snow on them
3354 tire tracks in fresh snow (grateful I can stay home)
3355 reading a gardening book on a snowy morning - making plans
3356 nasty cold (or flu) = time to rest and read wrapped up in blankets
3357 echinacea and Vit C and cod liver
3358
Psalms of David
, illuminated by James S. Freemantle - love to read it with its drawings and calligraphy
3359 fresh snow
3360 our puppy running around trying to catch falling snowflakes - funny
3361 a steamy shower for a deep cough
3362 B helping with meals and clean-up while I am sick
3363 a new journal - fresh pages to be filled in
3364 safe trips on icy roads
3365 the snow, illuminated by glistening glitter lights when the sun comes out
3366 A's Super Bowl Spread of tempting foods - yummy!
3367 hugs from grandkiddos
3368 granddaughterA's eyes lighting up talking about her favorite character (Elsa from Frozen)
3369 J home, back to routine - normal is exciting this week because it is familiar
3370 discovering faded pressed flowers in an old book I'm reading (The Friendly Year) - someone's touch of beauty years ago in the pages
371 a foggy morning
3372 grocery shopping before another storm - grateful for food in the cupboards
3373 snow again
3374 found my missing debit card - relief - gratefulness (was in a different jacket pocket)
3375
...the skillfulness of His hands
Psa 78:72 His daily touch in everyday beauty
3376 B home safely on risky roads
3377 the heater keeping the house cozy when it is 0 degrees outside
3378 snow sparkles when the sun comes out
3379 helping with travel plans for daughters' get together, exciting for them!
3380 the sun coming out after a dreary day
3381 shadows on the snow
3382 bright sun shiny on the snow
3383 garden dreaming
3384 gift of a new devotional book - just when I'm finishing my old one - thank You Lord!
3385 Rosamunde Pilcher. Love her novels
3386 B's flight scheduled to spend time with his mom for her surgery
3387 talked with S, he encourages me mucho
3388 snow on the ground on a bright moonlit night
3389 N - progress on his schoolwork!
3390 an icy morning - frosty filigree on the trees
3391 an invitation for this weekend - a girls' day out with daughters - looking forward!
3392 Phase Ten card games in the evenings - fun even if I don't win
3393 our funny puppy watching rabbits and quail out the front window
3394 sunny today, warming up
3395 new couch delivery! rocker, recliner love-seat - love it
3396 signed up for a garden class with one of my favorite garden authors - woohoo!!
3397 46 degrees at 7:15 this am, amazing change in the weather, feels a tiny bit like spring is coming
3398 birthday gifts sent to granddaughterK - she'll be 8 - wow!
3399 re-reading my favorite garden books, dreaming of spring
3400 getting dirt under my fingernails - look forward to that
3401 strange dreams that make me grateful to be awake, glad to wake up
3402 a bright, sunny sunrise
3403 bright blue sky, white cotton clouds
3404 a special dinner out, walking along the riverwalk
3405 windy, fresh air
3406 my early morning reading
3407 "We measure success by accumulation. The measure is false. The measure is appreciation. He who loves most has most." The Friendly Year, Henry Van Dyke
3408 birdsong - sounds like a meadowlark but it is brown
3409 Fun day out with H,E!
3410 stretched my comfort zone - climbed three flights of open steps and rode a ski lift up the side of the mountain - gorgeous views, worth my private risk
3411 walking in Old Town, visited the galleries, the quaint shops, fun to wander and chat together
3412 chatting until after dark, a simple dinner out
3413 laughing at our own sillinesses
3414 long drive home, the full moon on my left shoulder the whole way
3415 more sunlight - feeling the shift, the change in daylight hours
3416 our puppy blowing bubbles in her water dish
3417 the quiet dark in the house after bedtime
3418 my philedendron plant sending out long tendrils - love that it is a family plant - cuttings from R's which are from S's great grandma's
3419 a day in the 70's - a respite from winter snows and cold
3420 weeding - finding it a joy
3421 safe flight for B, safe arrival in CA
3422 walks with neighbor, even in the cold icy wind
3423 Garden group meeting - I enjoy listening to all of them, appreciate their encouragement to me
3424 a pleasant dinner out - talking, relaxing
3425 fun shopping expedition
3426 our comfy new couch, to sit together
3427 good news - a long awaited grandbaby is brewing
3428 early morning darkness becoming, blending into light
3429 porchlight on in the dark, lighting up the front
3430 an easy, fun dinner of fishsticks with J,N
3431 finishing a good book
3432 family texting
3433 email of ultrasounds of coming grandbaby
3434 J learning to cook
3435 a hint of green in the lawn even though it is still freezing at night
3436 afternoon walks
3437 wearing a hat to protect from the sun
3438 a new skirt
3439 tumbleweeds gone in the trash pick-up
3440 emails from friends, love to see them pop up in the inbox
3441 cloudy, quiet weekend mornings
3442 a flower delivery! a gift from B - love them, pretty to have in winter
3443 safe travels, arrivals home
3444 gathered around the table for dinner - love that time of day
3445 Carrie (puppy) tearing up the dried out sunflower bushes, doing my weeding for me
3446 muck boots that fit - my "style" of shoes
3447 reading gardening books, planning, dreaming towards spring
3448 following a new food/eating plan
3449 gorgeous illuminated clouds
3450 turning dirty clothes into clean folded clothes
3451 a flock of geese
3452 blog posts - back to it, finally
3453 clean dishes, put away
3454
Grace for the Good Girl
, Emily Freeman, learning, understanding deeper, more about grace
3455 the puppy, asleep on the couch instead of tearing something up
3456 Qwirkle, a fun, colorful evening game to play together
3457 sun moving in the sky - shines directly in the window now in the morning
3458 some of the flowers in my delivered boquet still blooming
3459 70 degrees predicted today, the weekend snow prediction cancelled
3460 more weeds gone to the trash
3461 birds twittering their good mornings
3462 a productive weekend, fun times together
3463 we have a chicken barn (in pieces moved from our neighbor's yard - was a playhouse)
3464 Daylight Saving - long sunlight after dinner
3465 sitting out on the deck in the afternoon - first time it's warm enough in months to sit outside and enjoy the sun and breeze
3466 a pizza dinner treat
3467 watching the dogs wrestle and play their rowdy games
3468 daughters outing together - love the photos they send me of their big beautiful smiles
3469 long talk with P over google+ - good to chat long distance
3470 garden plans
3471 news from ultrasound - a grandson!
3472 the tumbleweed pile I cleaned up - another one is back again after a very windy day
3473 the noise of the wind banging against the house
3474 no snow - but it is cold this morning - 23 degrees
3475 a Monday morning, hello to a new week
3476 pink and blue striped sunrise
3477 a session of garden classes attended with H, fun to learn together
3478 salad jars - ingredients layered in jars, pretty and yummy
3479 a state of limbo - of waiting for an unknown
3480 noisy wind gusts battering the house
3481 an afternoon reading, wrapped up in the afghan while the wind roars outside
3482 finishing two good devotional books
3483 a fast food taco treat
3484 the impatien stems I stuck in water rooted - lots of new plants!
3485 finches singing their happy songs in the trees
3486 banana bread baking - yummy smells
3487 recovery from a brief stomach flu - relief!
3488 cooperative sons - so grateful
3489 the roasted vegies and BBQ, yummy
3490 class with the garden group this weekend - fun to spend time with them
3491 First Day of Spring!
3492 cozy talks together
3493 first spring snow
3494 a starburst of spiky icicles on the tree branches and pine needles
3495 the chicken barn rebuilt and the roof on
3496 painting the chicken barn "barn red" (of course)
3497 computer issues resolved
3498 scents from the melted wax (citrus)
3499 hugs
3500 new exercise with B - Tai Cheng - calm strength
3501 puppy, confused, looking at herself in the mirror
3502 time to relax
3503 deep, pleasant sleep
3504 the words of favorite old hymns
3505 Spring Break - a quiet do little kind of week
3506 made a vegetable (rather than pasta) lasagna - yummy
3507 the first morning sunlight shining on the walls
3508 the garden group working at the garden again
3509 discovering two of my library books are written by sisters - one a gardening book, one a writing book, a fun surprise
3510 a water bottle to carry around, others with their water bottles too, an awareness of needing to drink lots of water
3511 little bunnies and quail teasing the dog
3512 grandsonR's first birthday party - he had so much fun! grateful to be there
3513 am afternoon walk with family and dogs
3514 Colorado clouds (know I've said this before, but I love to watch them in the sky)
3515 our family, close and laughing together
3516 clean, healthy eating
3517 doggie greetings
3518 saw the first green leaves out on some trees in town
3519 buds on our tree out front
3520 hangman/spelling games with N
3521 dog hair (in everything give thanks...)